Japanese Little League® Baseball Structure
---
Japan is comprised of eight geographic regions that encompass the four largest home islands. Each region encompasses a number of prefectures, which are similar to states and provinces in North America. The eight regions of Japan are Hokkaido, Tohoku, Kanto, Chubu, Kansai, Chugoku, Shikoku, and Kyushu. Hokkaido, Shikoku, and Kyushu are islands, while the other five regions are all on Honshu, which is the largest island.

Little League Baseball in Japan is divided into twelve districts. The Hokkaido, Tohoku, Kansai, Chugoku, Shikoku, and Kyushu regions each comprise a distinct district, while the Kanto and Chubu regions are divided into a total of six Little League districts due to the large population base and the number of leagues chartered in the regions. There are four districts in Kanto: Higashikanto (Eastern Kanto), Kitakanto (Northern Kanto), Tokyo, and Kanagawa. Chibu is divided into two districts, Shinetsu and Tokai.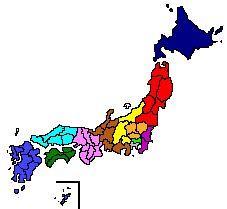 Japanese leagues are organized as follows:
| District | Prefectures | Largest Cities |
| --- | --- | --- |
| Hokkaido | Hokkaido | Sapporo |
| Tohoku | Aomori, Akita, Iwate, Yamagata, Miyagi, Fukushima | Sendai |
| Shinetsu | Niigata, Nagano, Yamanashi | Niigata, Nagano |
| Higashikanto | Ibaraki, Chiba | Chiba, Funabashi, Ichikawa |
| Kitakanto | Gunma, Tochigi, Saitama | Kawaguchi |
| Tokyo | Tokyo | Tokyo |
| Kanagawa | Kanagawa | Yokohama |
| Tokai | Shizuoka, Toyama, Gifu, Aichi, Ishikawa, Fukui | Nagoya, Hamamatsu, Shizuoka |
| Kansai | Shiga, Mie, Kyoto, Osaka, Nara, Wakayama, Hyogo | Osaka, Kyoto, Kobe, Nara |
| Chugoku | Tottori, Okayama, Shimane, Hiroshima, Yamaguchi | Hiroshima, Okayama |
| Shikoku | Kagawa, Tokushima, Ehime, Kochi | Matsuyama |
| Kyushu | Nagasaki, Saga, Fukuoka, Oita, Kumamoto, Miyazaki, Kagoshima, Okinawa | Fukuoka |
The four districts with the most chartered leagues each send two representatives to the All-Japan tournament. In other areas, only the champion advances.
Click here to return to the Japan Little League Tournament Page Main Menu.
---
The Unpage brings you unprecedented tournament coverage.
Thank-you for visiting!
Click for information on contacting the Unpage.
Copyright &copy 2005, Unpage Publications. All rights reserved.
Last revision: 05/17/2004